Everyone seems to have an opinion about New Year's resolutions.  They're an opportunity for thoughtful reflection and personal reform for some, or a review to undertake daily instead of annually, and still others see them as an exercise in futility.  Whatever your thoughts on New Year's resolutions, we present two here for every REALTOR® to keep in 2012.
First, though, we've set aside a collection of over 80 ebook titles to help fill your own list and realize your goals in 2012.  You'll find advice on everything from learning a new language to taking control of your finances, travelling the world to reducing stress.  The eBooks Collection on REALTOR.org is a free service for NAR members — browse the site, borrow a title or two, and download them to your favorite device.
The first resolution every REALTOR® should put on their list this year:  NAR requires every REALTOR® to complete their Code of Ethics training every four years — and Dec. 31, 2012 is the next deadline.  If you haven't done it already, take some time to get it out of the way well before the deadline.  The online course is free and available anytime, or contact your local association of REALTORS® to inquire about Ethics training in your area.
And the second resolution:  Seven decades ago, the songwriter Woody Guthrie jotted down his own list of resolutions for the year 1942 in his notebook.  It's a curious list of 33 resolutions, combining the easily attainable ("Change socks") with more ambitious goals ("Love everybody").  After the wild ride we've had in 2011, and the vast array of predictions for 2012, #20 in Woody's list is one for everyone to adopt as their own:  "Dream good."
Short sales on the rise, urbanization as the answer, and Samoa skips a day
The robo-signing scandal that slowed the foreclosure process to a crawl appears to have increased lender interest in short sales.
More than 50 percent of the world's population now live in cities – and there is no end of urbanization in sight. As opposed to the conventional wisdom, Harvard economist Edward Glaeser believes urbanization to be a solution to many unanswered problems, such as pollution, depression and a lack of creativity.
Brazilians are becoming more and more important in the South Florida economy. The Brazilians' money has helped resuscitate the real estate market in Miami. Foreigners account for more than half of all property sales in Miami, and condominium towers that once sat empty are quickly selling out.
Felix Salmon writes on his Reuters blog about the comparison between Sears and Apple stores. One is a glorious success, the other a slow dying dinosaur. The difference? Beyond having products that people crave, you can look at how the two companies invest in their retail spaces. It's a stark contrast.
You haven't even thrown the box away from your new iPad 2 yet, but the 3rd generation might be on its way sooner than expected. Inc. unwraps the details.
Perhaps not on-the-job, but after hours… an iPhone app helps Manhattan sip on spirits whilst charging the phone. We're ready for such technology to grace the pubs of Chicago.
If you were planning to celebrate your Dec. 30th birthday in Samoa, forget it. The island nation is moving to the other side of the international date line this week and will go directly from thursday to saturday.
Housing's impact on higher education, gift failure, and ugly sweaters
Pew's Economic Mobility Project has a new study out this morning: "Housing Wealth and Higher Education: Building a Foundation for Economic Mobility." The study uses a model to assess how changes in housing wealth during the recent boom and bust affected students' higher education decisions.  Key findings include: The wealth generated by rising home values during the 2001-2005 boom is estimated to have increased college enrollment rates among students from low- and middle-income families by 24 percent."
Maybe it's Kindle fatigue, maybe it's the creeping price increases of eBooks, or maybe (most likely) it's the absence of Borders in the market, but traditional booksellers are reporting an increase in business this holiday. To my mind, Amazon is great for prices or if you know just what you want, but nothing beats a good browse at a brick and mortar bookstore.
What do you get when you combine a multitude of gift choices with a gift receiver's discriminating palette? Failure. The New York Times delves in to the psychology of gift giving.
Still looking for gifts? The Chicago Tribune gives some suggestions for gifts for the car lover.
And who gives the worst gifts? Mothers- or Fathers-in-law, apparently. Overall, 1 in 5 gifts are ranked as stinkers. Maybe it's time to step back off the edge here, people. So much for the spirit of the season…
Speaking of the spirit of the season, here are 10 facts about Dicken's A Christmas Carol you probably didn't know.
If it's not gifts for the family, it's tips for pretty much everyone else. How much to give? Do you really have to tip your garbage man? Yahoo! Finance gives three ways to tip within your budget, and three more standard tips on tipping.
Who can keep up with the constant slew of changes on social media sites? Slate shares an important update about the Facebook inbox. I checked mine and found a few lost gems. And get ready for the next change – Timeline.
And finally, the 12 All-time ugliest Christmas Sweaters. Yikes!
Holiday obligations, insurance, penny horders, and how to wrap a cat
Just because everyone is buying the boss a gift, pulling names off the giving tree, and organizing an office potluck for the holidays doesn't mean you have to participate. While it's probably not a wise career move to completely withdraw from office festivities, don't feel bad about bowing out from some things. The Chicago Tribune gives some advice on how to gracefully decline office holiday obligations.
Well, if you do decide to go to the office holiday party, remember they can be a minefield of faux pas. Prepare yourself with some simple tips on how to survive the office party and come out clean.
And what if that holiday party continues on into your home, or the boss invites you over for some celebrating? Alcohol, ice and snow can combine into an accident waiting to happen. And I hate to say it, but what about theft? All of this is leading to: this is a good time of year to review your home insurance policy.
Google is investing in affordable housing near it's headquarters in Mountain View, CA. But before you think, "Gee, how nice of them," realize it's a tax write-off.
Did you know it's illegal to melt down old pennies for their copper? That's not stopping people from hording them, waiting for the day pennies go out of circulation. ABC has an interesting article on some patient savers. It gives new meaning to "a penny saved is a penny earned."
And it's a little early for 2011 top ten lists, don't you think? Regardless, Time has already put out their Top 10 Everything of 2011 master list.
And finally, how to wrap a cat for Christmas.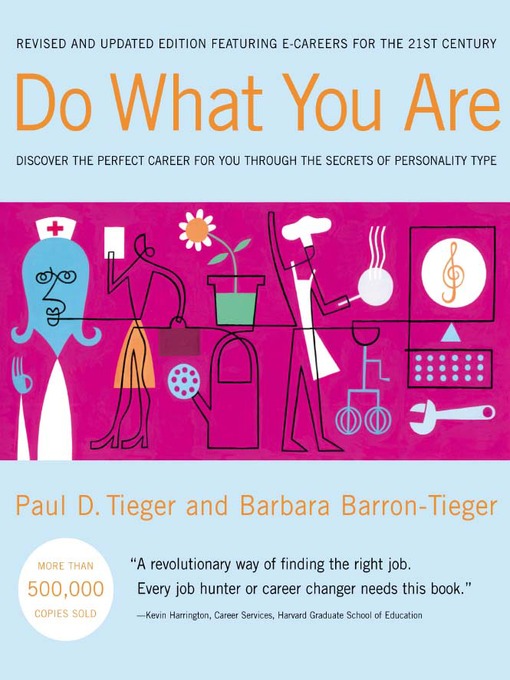 Do What You Are by Paul D. Tieger and Barbara Barron-Tieger
Developed during World War II, the Myers-Briggs Type Indicator (MBTI) is a questionnaire that was designed to help women find careers most suited to them during wartime. According to the MBTI, there are four temperaments with each one having four varieties, creating sixteen personality types. Each personality type is geared toward particular occupations. Since its development, the MBTI has become a standard test in assisting people in their career searches.
Authors Paul and Barbara Tieger use the MBTI as the main tool in their book, "Do What You Are", and the objective of the book is to help you find a new career based on who you are, rather than on what you think you should do.
The book has three parts, beginning with an introduction to the four temperaments, the sixteen personality types, and their distinct characteristics. Using the MBTI, the authors take you through a self-diagnostic series of questions to help you determine your particular temperament and personality type.
The second part of the book helps you determine the four characteristics that must be in your chosen career in order for it to be fulfilling for you. You also identify and learn how to develop your innate strengths and abilities, and to pinpoint areas that are not as strong with advice on how to minimize them.
Part three is divided according to each personality type, and includes a list of job characteristics specific to each type. In addition to helping you in your career search, "Do What You Are" also shows you how you can apply what you've learned about your personality to better understand yourself and improve your personal relationships.
Based on the questionnaire, my temperament appears to be an idealist, and more specifically an INFP personality type – introverted, intuitive, feeling, and perceiving, with one of the careers I'm most suited for being, ironically, a librarian.
I found the book and the self-test to be quite fun and insightful, and whether you are looking to enhance your career, or you simply enjoy learning about yourself, "Do What You Are" is certainly worth reading.
The list of the most-accessed Field Guides during the month of November was recently released:
Have an idea for a new field guide? Articles you think we should be including in existing ones? Let us know.
A "green" ride for a REALTOR, don't stress on the wrapping, and peanut butter is the perfect gift for some

Many Realtors spend more time in their cars than they do in their offices. But if you're trying to stand out as a 'green' realtor, how do you balance the need for transport with the need for environmental sensitivity and more importantly, stand out to potential clients? One Realtor in Orange County, CA decided the answer was a veggie-oil car. Not only does it recycle used frying oil, it also costs less than regular gas.
Generation Y has less interest in cars than the last. And that trend isn't new. "Car Culture" has been on the decline since the 1970s, with teenagers less interested in driving than their parents. Some experts say it's because of mobile phones, social media, and the internet providing an alternative to actually getting in the car and going to meet your friends in person. Others say the trend might be exacerbated by the tough economy. Either way, the auto industry isn't taking any chances.
Even if you're not planning to buy a car in the next few weeks (although it is one of the best times of year to buy a car), chances are you will be doing a lot of shopping. Bloomberg BusinessWeek recently published a story on several B-school studies that looked at consumer shopping behavior. A couple of interesting findings: impulse purchases may happen in the store aisle or at checkout, but the idea for them often starts before you even leave the house. Also, don't struggle for the perfect wrapping: well-wrapped gifts give an expectation to the receiver that something wonderful is inside. If the gift is just so-so, they show more disappointment than if your wrapping skills were only marginal.
Want to know what your local Food Bank might need this winter? The answer could be peanut butter.
Still trying to decide between the new Kindle Fire and the new Nook Tablet? CNET has a side-by-side review. The winner is…the Nook, but only by a nose. They spell out pretty clearly the type of user for each.